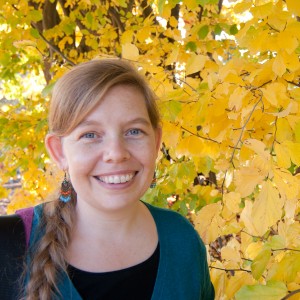 Welcome to my blog!
My name is Christina McFall and I'm currently based in Berlin, Germany, but until recently I was living in the San Francisco Bay Area. The Meadowlarking blog started out with a specific theme – cyanotype printing, but I have since expanded the focus a bit to include more diverse crafts, my take on Berlin, and other design and art related topics that catch my eye.
Cyanotype is a photographic printing process that I like to use to print original art on fabric. When I lived in the Bay Area I sold my handprinted fabric through etsy and taught workshops. Now that I'm in Berlin, my business is temporarily on hold as my time is full of learning german and exploring a new culture.
Cyanotype printing is something I've been fascinated with since I first used it in college, mostly to print photographs on paper. (Yes, this was back in the days of the darkroom.) Since then, I've shifted my focus to cyanotype on fabric and using mostly non-photographic artwork for my designs. I find that cyanotype printed on fabric is so much more versatile than printed on paper, and I enjoy experimenting with the different variations and possibilities.
In addition to cyanotype, I am an avid photographer, knitter, and traveller. Living overseas is the realization of a lifelong dream and I am thrilled to have Berlin and the rest of Europe literally at my doorstep!
My work has been featured in: