Cyanotype Workshop Sunday, Aug 28th in San Jose, CA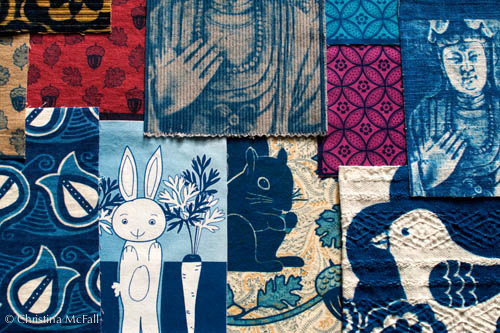 I'm pleased to announce that I'll be teaching a hands-on workshop at A Work of Heart Studio in San Jose, CA, on August 28th. I'm sure it will be a lot of fun and I'm really looking forward to it!
Intro to Fabric Printing with Cyanotype
date: Sunday, Aug 28th
time: 1-4pm
price: $65 + $10 materials fee
location: A Work of Heart Studio, 2196 Lincoln Ave, San Jose, CA
This workshop will give you a thorough introduction to cyanotype printing on fabric. In particular, you'll learn how to go beyond basic shadow-prints by using digital negatives to print detailed designs of your own creation. You will also get to experiment with printing on different textures and colors of fabric, and have the opportunity to tone one of your prints (change the original blue color to brown, black, yellow or green.)
So that everyone can have their own original artwork ready to cyanotype print in the workshop, I am asking each participant to send digital files of his/her choice of artwork to me beforehand, and I'll create custom digital negatives for use during the workshop.
You will go home with:
- 4 (8x10inch) fabric prints of your own design on quilting cotton, linen, and corduroy
- 2 (8x10inch) reusuable digital negatives of your own artwork