Eager to try out cyanotype printing? Check out the links below for suggestions on suppliers, books, and online resources.
Supplies
Cyanotype Kits
Contains all the chemistry, conveniently premeasured in two brown bottles for proper storage
Full instructions
Kit makes a total of 500mL of sensitizer (250mL of solution A and solution B)
Enough to coat 2-4 yards of fabric depending on type
Available as a liquid kit, premixed and ready to use
Also available as a dry kit. The premeasured dry chemicals are already in the bottles and all you have to do is add water. (saves money on shipping)
This kit is available at several photo supply retailers including:
Photographers' Formulary
B&H Photo Video
Your local photo supply shop (possibly)
Important Note for buying kits: Original Cyanotype vs. "New" Cyanotype
There are two variants of cyanotype kits available:
1. Classic cyanotype = original cyanotype
2. New cyanotype (also called cyanotype II) as developed by Mike Ware
What you want is the classic or original cyanotype as it is both cheaper and less toxic. It is what I use for all my printing and what I demo'd at Maker Faire. Although if you're curious, the new cyanotype will work on fabric as well.
Bulk Chemicals
If you start to do cyanotype printing on a large scale, you will want to buy your chemistry in bulk which is much cheaper than by the kits. The two chemicals you need are potassium ferricyanide and ferric ammonium citrate (green type).
I recommend comparing prices at:
Bostick & Sullivan
Photographers' Formulary
B&H Photo Video
Blueprints on Fabric
Precoated Fabric (ready to print)
Another alternative is to buy fabric that has already been coated with cyanotype sensitizer. This is much more expensive than coating your own fabric and limits your fabric choices, but is a good option if you don't want to have to deal with the chemistry and coating process.
Suppliers:
Blueprints on Fabric
B&H Photo Video
Other Supplies
Photo supply stores are also a good place to pick up additional supplies such as measuring cups, trays, gloves, apron, goggles, etc. You may have many of these items already around the house, but remember that once you use them for cyanotype they should be labeled and not used for food preparation again.
Recommended Books and How To's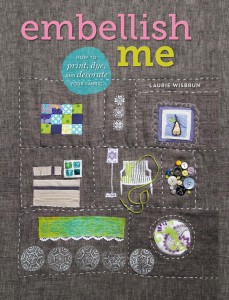 Embellish Me by Laurie WisbrunThis book features a small section on cyanotype fabric printing that I wrote, plus dozens of other great tutorials on a wide array of fabric embellishment techniques.

Blueprints on Fabric by Barbara Hewitt

The projects are a bit dated, but this book has very good information on how to cyanotype print on fabric (although I strongly disagree with the author regarding exposing on wet fabric – it doesn't work!) Out of print, but not too hard to find used or at a library.

The Book of Alternative Photographic Processes by Christopher James

Don't be mistaken – this is a photography book rather than a craft book. However it has a very good chapter on cyanotype and most of the information applies to printing on fabric as well.
Further Reading Online
A basic how-to do cyanotype printing (mostly for printing on paper, but esentially the same as fabric)
For more in-depth info about the cyanotype process I suggest you check out the Alternative Photography's cyanotype thread here where you can find lots of interesting cyanotype-related articles.