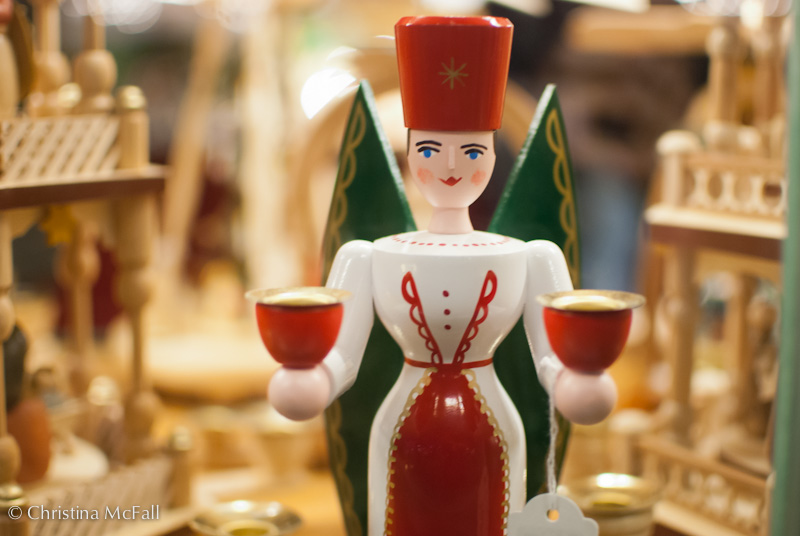 With only one day to go til the shortest day of the year, less than 8 hours of daylight and an official sunset of 3:53pm – Berlin can be a bit grim right now. But Germans have the perfect antidote to the gloomy days – bustling, festive Christmas markets!
Berlin alone boasts something like 70 different markets, not to mention all the Weihnachtsmärkt in the rest of Germany, Austria and other parts of Europe. The markets are like any other fair – an excuse to go out with friends, eat tasty (unhealthy) food, and buy holiday-themed gifts. Typical treats include glühwein (mulled wine), fresh belgian waffles, gingerbread (lebkuchen), quark balls (a bit like donut balls), marzipan, chocolates, pretzels, roasted chesnuts, sauteed button mushrooms, potato soup, fruit breads, cheeses, and of course an array of sausages and cured meats.
When you've had your fill of food (or are taking a break between courses), you can entertain yourself by browsing the stalls for gifts: woolly felted house slippers, fancy wood-handled brushes, handmade soaps, glass tree ornaments, traditional wooden christmas decorations, speciality jams and foods, hats and scarves…
And then of course there is entertainment. I've seen an ice skating rink, carousels, ferris wheels, live entertainment, miniature ponies in a manger, and even a Santa Claus in a sleigh with reindeer who "fly" across the sky periodically (on a wire). At night the markets are all lit up and very cheery – and since night begins at 4pm, the markets are a popular place to spend the early evening.
Even more photos in the full set on flickr: German Christmas Markets