Last week I caught the Eadweard Muybridge exhibit on it's final day at SF MOMA. He's most famous for his photographic studies of people and animals in motion – all in the name of science, but also quite the novelty before the invention of movie cameras. For example he was the first to prove that a horse lifts all four feet off the ground during a gallop!
As a photography buff I was thrilled to see this exhibit which included a lot of the motion studies as well as dozens of stereograms, and mammoth plate photos of Yosemite. The latter are photos made from huge 17 x 22 inch glass plate negatives. 
Incredible stuff, but l was truly overjoyed when I turned a corner and found a wall of cyanotypes!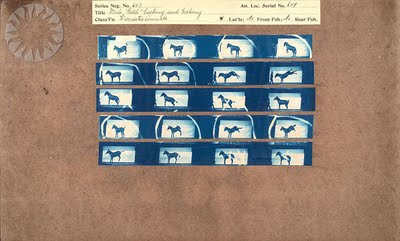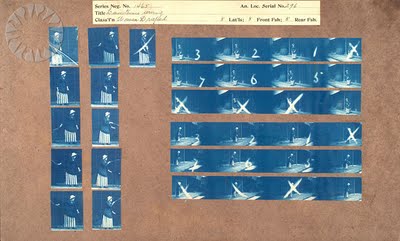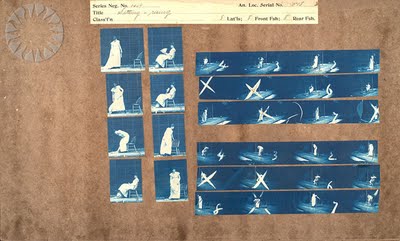 Turns out Muybridge used cyanotype coated paper to print working proofs of his negatives before printing the final versions in black & white. They look pretty good for being printed over 120 years ago! Back then cyanotype was a popular choice for proof printing because it was easy and inexpensive compared to other options. 
Muybridge would use these cyanotype proof prints to evaluate the negatives for each session, and to plan for final cropping, editting, and rearranging to produce the final series of photos that would be published in his book,
Animal Locomotion
. Sometimes it seems he even made cyanotype test prints of the final layout like this:
All of Muybridge's original negatives have been lost and so these contact printed cyanotypes are the only record left of his original uncropped negatives. (A contact print is simply a print made by placing the negative directly on the photosensitive paper – creating a 1:1 print.)


Surprisingly, the cyanotypes reveal that Muybridge would freely edit and rearrange the sequence of images to better illustrate the depicted motions – a little more theatrical than scientific. Here for example, are the cyanotype proofs and the final published images for a particular session:




The Smithsonian has a large collection of these cyanotype proof prints and you can learn more about them here.
Be forewarned that most of the motion studies are in the nude, but a naked guy playing baseball is more humorous than lewd!  Although, the difference in how Muybridged staged his female and male subjects is telling – the men are all demonstrating athletics, and the women are mostly shown doing domestic chores or looking romantic.


The University of Pennsylvania is where Muybridge did his Animal Locomotion study and their Digital Archive has a nice collection of hi-res b&w Muybridge images here.