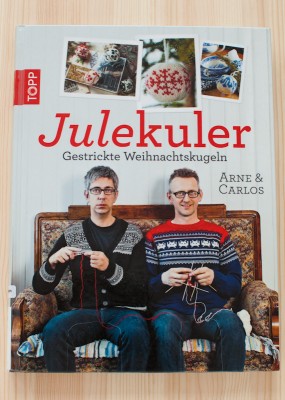 I found this knitting book at the library last week. It's called Julekuler, by Arne & Carlos, and is a collection of patterns for knitted christmas balls to use for tree ornaments, etc. I love going to the library here to look for unusual craft books that I can't get in the US, but it turns out this book is also published in English where it's titled 55 Christmas Balls to Knit. Amazon has a good preview of it, if you're interested.
The authors are a couple of quirky Norwegian knitwear designers named Arne & Carlos, who live an idyllic life on a farm in Norway, and apparently still have lots of time to knit. You can see them and their farm in this short youtube video: Arne and Carlos video.
All the balls are knit in the round on double-pointed needles with increases and decreases for shaping. I mention this because I've seen other balls that are just knit as tubes and gathered at the ends – quicker, but not as nice looking. With 55 patterns in the book there are plenty to choose from, with both traditional and modern motifs. I choose the "Hallingborte" pattern for my first ball, which the book says is a motif from a 1947 Norwegian knitting book. (ooh – now if only I could get my hands on that!)
Double-pointed needles + colorwork + a lot of increases and decreases makes this a bit time-consuming. However, I'm very pleased with the result, and I'm sure I'll be faster on the second one. I also chose to knit this with acrylic because that's all I had on hand in the right color and gauge, but I will definitely use a nice wool next time, and maybe even stuff it with wool batting as suggested in the book. Small projects that require a lot of work deserve to be made in fine materials, don't you agree?