Swatches from cyanotype tutorial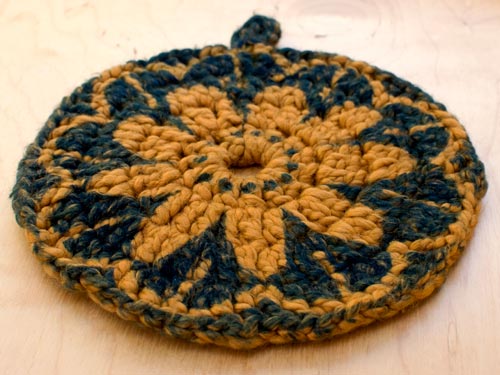 Have you read the tutorial and you're all ready to try out cyanotype printing on handknits and crochets? Here are some recommended yarns and more photos of all the swatches seen in my tutorial featured on Craft. Tips on choosing a yarn for cyanotype printing:
1. Yarn weight and the stitch pattern: Generally you can print finer detail on a thinner yarn with a smoother stitch surface, such as stockinette, but don't avoid the chunky yarns and stitches – they can have a great effect too.
2. Color: The color of the yarn makes a huge difference to the outcome of the print. Obviously the color of the yarn shows through, but it also mixes with the blue dye of the cyanotype. Notice how the cyanotype looks more purple when printed on the pinkish terracotta example below. It would be fun to try a variegated yarn or stripes!
3. Fiber content: Cyanotype will not print on all yarn types, and not all yarn can handle the amount of washing that is required to make a print. I get the best results on yarn with high amounts of cotton, bamboo, silk and linen. 100% acrylic will not work as it cannot absorb the dye. I also have not had much success with wool yarns – they tend to felt up, and even when prewashed the natural oils seem to repel the dye. If you feel like experimenting, I recommend trying the wool that is prepared for dyeing.
Click "show info" in the slideshow to see details of the type of yarn used for each swatch.